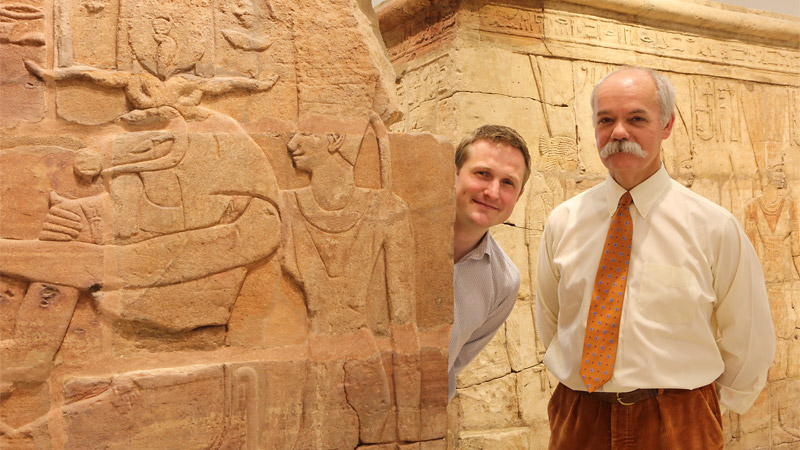 Over the past five years the Ashmolean has been transformed, doubling its exhibition space and redisplaying its collections to provide an inspirational experience. Now visitors can read across all the galleries to see how Egypt, Sudan, Greece, Rome, India, China and Japan interconnected through conquest and trade.
The Ancient Egypt and Nubia Galleries are the second phase of the Museum's development, and many exhibits that had been in storage for decades in the old museum have been given a new lease of life. Visitors go on a chronological journey through 5,000 years of human occupation in the Nile Valley.
One of the stars of the show is the mummy of Djeddjehutyiuefankh (or Djed to his friends) whose evocative nest of coffins has been resurrected in a new display of funerary materials called Life after Death in Ancient Egypt.
The exploded view gives visitors a sense of how the arrangement of coffins protected the wrapped mummy within. Curator Liam McNamara gives us some context.
"Djed was discovered below the temple of the 18th Dynasty Queen Hatshepsut, but actually died during the 25th Dynasty around 712 BC. He was a Priest of the god Montu, Lord of Thebes. The hieroglyphs on his coffins are a series of 'offering formulas' representing requests for food and possessions to be provided in the afterlife."
Before X-ray technology, sarcophagi were opened and mummies unwrapped to discover the funerary objects within and the state of preservation of the body. The computer-generated interactives alongside Djed's display reveal how a CT scan was carried out, and some of the data researchers are now exploring.
"The scanner allowed us to investigate Djed's mummy in a non-destructive way. We can learn about ancient populations, the ailments they suffered, and the diseases they were likely to have died from."
Work on the mummy and the way it is displayed brings Djed to life as an individual. Liam laughs as he recalls the frisson that passed through the team when they retired behind the protective glass of the scanning unit in the hospital.
"We lifted Djed onto the flatbed, and as he was about to go through the CT scanner, the computer voice told him to …TAKE A DEEP BREATH…! Djed didn't respond to this command but once he was inside, detailed images rapidly appeared on the screen and we started spotting different features."
Chief Conservator Mark Norman says they were well aware of the sensitivities surrounding funerary displays. "It's critical that people understand it is the body of a person. It's not a gratuitous peep show. We thought long and hard about how to display Djed in the most appropriate and respectful way. It's thrilling to see visitors engaging with him. The interactives are not generic. They are all about the afterlife of this individual who will pass on knowledge for years to come."