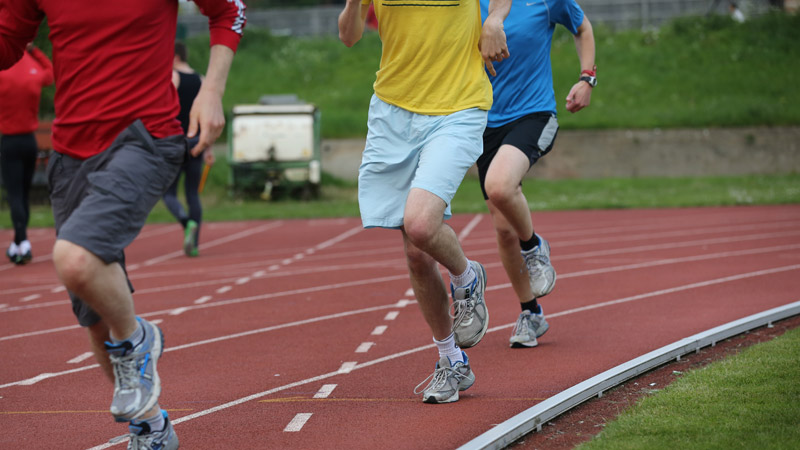 The much-anticipated floodlighting installed around the legendary Bannister Track at Iffley Road has transformed training conditions for athletes.
Helen Hanstock, Sports Federation President remembers the dark ages: "For the first few years I was here we had lights on the bottom of the stand that only lit part of the 100-metre track so you could only run 80 metres in the light."
Matt Johnson, President of the Athletics Club, paints an eccentric picture of the Heath Robinson tactics employed to navigate safely. "I am a long distance runner so we used to put bicycle lamps and traffic cones around the track to see where we were going. Now coaches can observe runners all the way round and improve their technique."
The lights have extended training opportunities and made Helen's job much easier.
"It used to be difficult to coordinate field event training because we could only do it in the daytime when people had academic commitments. Not driving people out of lectures and labs in the middle of the day makes a huge difference. Now we can get a whole group together, book a coach, and have a really productive session. We accommodate 85 sports at Iffley Road in a tiny out-dated facility. Better amenities will attract better calibre people."
Daniel Hooker is a Paralympian hopeful, and member of the athletics squad who harnesses the elements to finesse his training.
"Some sessions I want to get that feeling of running fast with the wind behind me. But sometimes – particularly in winter – I want to push myself so I run into the wind. Before the new lights, I could only use the 100-metre straight because the other side was so dark, but that meant running against athletes coming down the track. Now I can always get the wind direction I need."
Daniel is also a long-jumper but his training opportunities were severely restricted during winter months.
"The pits were on the dark side and jump sessions during club meeting days were restricted which forced me to practice on Sunday mornings, and one session a week is nothing like enough. The lighting has made the track so much more welcoming and anyway, who wants to jump in the dark?"